UPDATE: Read our research findings from this project:
M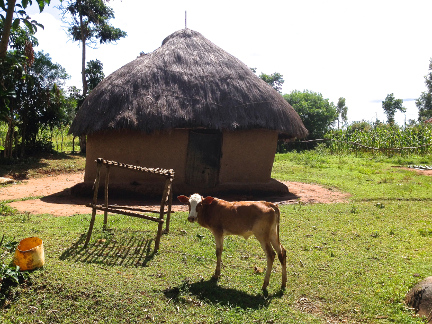 alnutrition is a serious health issue to children under five in Africa and Southeast Asia. It can severely impact the child's development and often leads to death. The condition is difficult to alleviate. Understanding what biological and environmental factors may contribute to malnutrition is essential for developing interventions to help these children.
A new study in Western Kenya led by Dr. Peter Rabinowitz and other COHR team members is investigating whether children living in close proximity with domestic animals show evidence of sharing gut microbes that can affect nutritional status. If so, then resetting the gut bacterial communities (microbiome) in livestock may lead to a sustaniable intervention for helping children avoid malnutrition and improve overall health and development.
Also involved in the project at Dr. Judd Walson (UW Department of Global Health), Dr. Wes Van Voorhis (UW Department of Medicine), Dr. Guy Palmer (Paul G. Allen School for Global Animal Health, Washington State University, Affliate Associate Professor, Global Health), and Dr. Joel Montgomery of the Centers for Disease Control-Kenya.
The study is being funded by the Bill and Melinda Gates Foundation Grand Challenges Explorations award. The GCE funds individuals worldwide to explore innovative ideas that may help solve major global health issues. Successful GCE projects have the opportunity to apply for future study support up to $1 million.
Epidemiology doctoral student Emily Mosites discusses sampling procedures with the microbiome study team in Western Kenya.