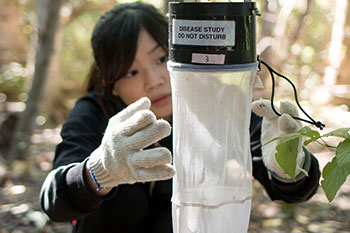 Environmental exposures cause hundreds of thousands of illnesses each year, including asthma and cancers. This Master of Science degree in Environmental Health trains students to identify, evaluate, and control exposures to chemical and microbial contaminants in air, water, soil, and food. The curriculum includes courses in the supporting sciences of biostatistics and epidemiology, as well as foundational courses in exposure science, toxicology, and risk assessment. Additional courses provide training in waste management, air pollution, water and wastewater, and other environmental health topics. Students earning this degree are well prepared to help maintain a safe supply of food and drinking water, discover mechanisms of diseases caused by environmental exposures, treat and dispose of solid and toxic wastes, and reduce air, water, and noise pollution.
Interested in an MS or PhD degree? You may qualify for in-state tuition if you reside in one of 16 Western states and territories. Learn more
Questions about our degree programs?
Career paths of recent graduates
Graduates from the MS in Environmental Health program pursue careers in environmental health practice, research, or consulting, or continue on to doctoral work in the field. Recent graduates from this degree option are currently working as:
An Environmental Health Associate at Ramboll Environ, a global consulting firm that works to manage environmental and health risks (Class of 2015)
A Public Affairs Specialist at the Environmental Protection Agency (Class of 2015)
An Environmental & Health Sciences Consultant at ICF International, a global consulting and technology services provider (Class of 2015)
Current student profile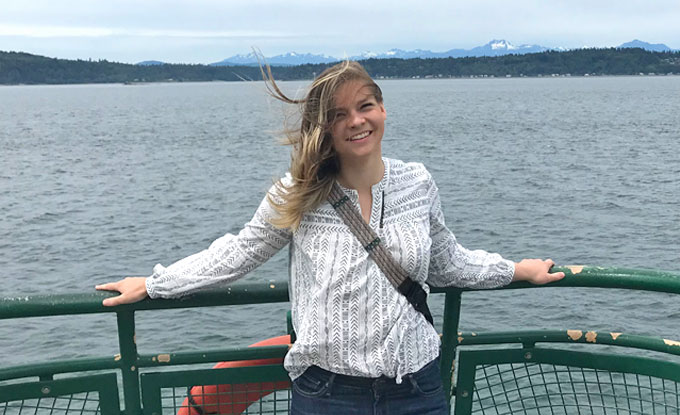 Allison Kline
"I have always been interested in the environment and how humans interact with it. When I was an undergraduate majoring in Environmental Sciences, I spent a semester at a research facility where I completed an honors thesis related to indicator bacteria and other area-specific microbes in stormwater, shellfishing waters, and oysters. That sparked my interest in human-environmental interactions and the spread of disease, leading me to purse my master's degree in environmental health.
My current thesis project is devoted to identifying gaps in our knowledge about the persistence of poliovirus. In particular, I'm studying the ability of two poliovirus types to survive at various temperatures in sediment and water. The ultimate goal of the research is to help improve surveillance efforts in parts of the world, like Pakistan, where poliovirus is still endemic.
I chose this department because of the high caliber and range of research that the faculty is doing. Since coming to UW, I've gained extensive and valuable laboratory experience with different methods and microbes that I had not worked with in the past. After I earn my degree, I plan to work in a research setting so I can continue to learn and develop new skills."
Recent student research projects
Spatial Analysis of Emergency Medical Service Calls and Extreme Heat in King County, WA
Student: Aubrey Devine (2017)
Faculty Advisor: Tania Busch Isaksen
Poliovirus and Rotavirus Detection in Water: Evaluating and Applying Environmental Surveillance Methods
Student: Jill Falman (2017)
Faculty Advisor: Scott Meschke
Non-Invasive Diagnosis of Pediatric Tuberculosis
Student: Jenny Lohmiller (2015)
Faculty Advisor: Jerry Cangelosi
Explore more MS in Environmental Health student research projects.
More information & requirements
The MS in Environmental Health is a 2-year degree. Students in this option complete a research thesis as a culminating experience. A complete list of course requirements for the MS in Environmental Health is available here.