Our department is one of the few at the University of Washington with our own career counselor dedicated to supporting students in the UW Department of Environmental & Occupational Health Sciences (DEOHS).
Our students have access to professional development programming, including:
A required internship preparation seminar (ENV H 480) that provides structure and support for their internship search and applications.
Employer roundtable discussions with representatives from agencies and industries to explore skills like collaboration and continuous improvement.
Opportunities to connect with DEOHS alumni at employers of interest.
Workshops and webinars on topics including interviewing and career fair prep.
Why choose a career in environmental and occupational health sciences?
With more than 1,200 graduates over the past 70 years, DEOHS is building a highly skilled workforce of environmental public health and occupational health and safety professionals and researchers. Our graduates work at the local, national and global levels as leaders in government, academia and the corporate and nonprofit sectors.
Graduates combine their scientific expertise and passion for improving health to create sustainable communities where everyone has access to clean air, clean water, safe food and safe workplaces.
DEOHS graduates are sought after by major employers and earn highly competitive salaries.
Top employers among state and federal agencies:
Environmental Protection Agency
UW Environmental Health & Safety
Washington Department of Labor & Industries
Top employers among companies: 
Top employers among local agencies: 
Public Health – Seattle & King County
Snohomish County Health Department
Tacoma–Pierce County Health Department

Top employers among consulting firms: 
Gradient
PBS Consulting
Ramboll




Career development workshops
Our department sponsors career development workshops and employer information sessions to prepare students for careers in the field. Students, faculty and public health leaders from across the Pacific Northwest meet to discuss employment opportunities available for environmental and occupational health graduates. Attendees include representatives from industry, consulting, governmental agencies and advocacy groups.
Meet Dan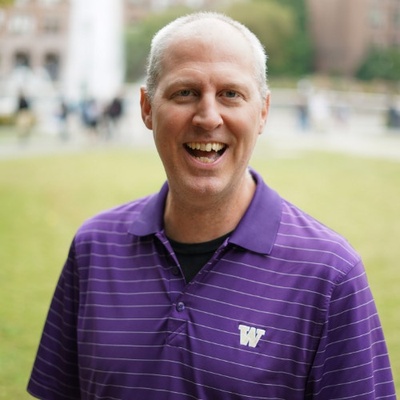 My name is Dan Poux, Manager of Experiential Learning & Career Services for DEOHS. I use he/him pronouns. I am excited to help you build skills that employers are looking for and prepare for your internship and your next steps after graduation. I've worked at UW since 2015 as both an academic adviser in Undergraduate Academic Affairs and a career coach in the Career & Internship Center. I learned a lot in that time about where my interests and my skills intersect and sought out this role that combines both. Learn more about my work and approach to engaging students through my LinkedIn profile.
Interested in learning more about our degrees?
Janet can help you make a plan to join the program
Newly admitted into our BS in Environmental Public Health?
Dan can working with you to get a jump on your internship plans
Getting ready for your internship
Enroll in ENV H 480, This course serves as an introduction and orientation to our internship program.