"Have you ever been working in the field and been unable to see the sun because of smoke?"
At a recent outreach event for farmworker families in Central Washington, participants were asked questions like this one about the challenges they face during wildfire smoke season, with an invitation to raise their hands when they agreed.
"Are you afraid that you would get in trouble if you left work during a wildfire event to go help a family member?"
Everyone in the room raised their hands.
About 50 farmworkers and their families attended the events in Wenatchee and Okanogan, called Clean Air – I Care, which took place in August on a weekend when the region was socked in with wildfire smoke.
They were organized by Wenatchee-based nonprofit Community for the Advancement of Family Education (CAFÉ) and the Pacific Northwest Center for Agricultural Safety and Health (PNASH) Center as part of an effort to understand the impacts of wildfire smoke on farmworkers who are parents and help identify solutions. The PNASH Center is part of the UW Department of Environmental & Occupational Health Sciences (DEOHS).
"Farmworkers are the essential workers. They care for and manage the crops. When the harvest season is here, they provide food for our tables," said Laura Rivera, environmental justice coordinator for CAFÉ. "We now know more about tools that could help provide peace of mind and solidarity to a vulnerable yet important community. I am very grateful for the opportunity to engage and learn from the farmworkers."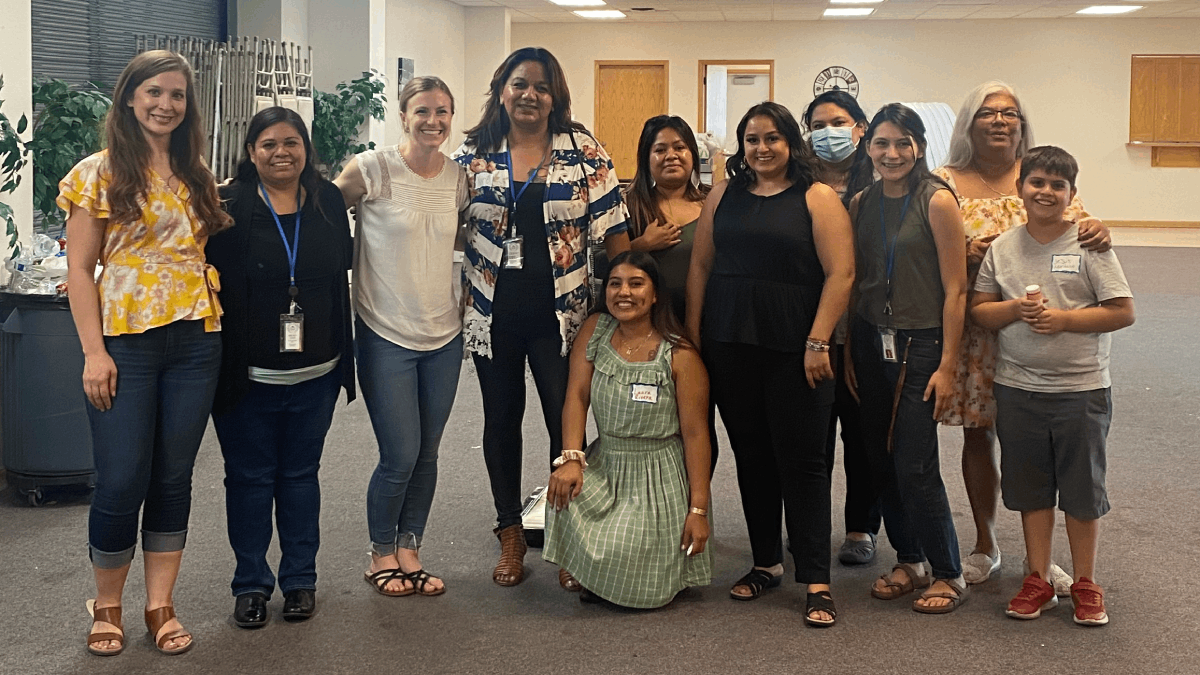 Working and parenting in the smoke
Working outside amid heat and wildfire smoke make summer especially grueling for farmworkers in Washington state. But for those who are also parents, these challenges are compounded by the pressure of balancing work and child care while kids are out of school, and concerns about their children's health in the smoke.
The Clean Air – I Care events, which were held in Spanish and included child care and dinner, facilitated roundtable discussions with participants about their needs and concerns, and provided them with resources on wildfire smoke, including box-fan filter kits. Community groups including Clean Air Methow, Northwest Justice Project and local child care organizations and family health centers tabled during the events to provide resources.
"The events were focused on hearing from farmworkers," said DEOHS postdoctoral fellow Savannah D'Evelyn, who co-led the project with Rivera. PNASH researchers Maria Blancas and Dennise Drury facilitated the events along with many CAFÉ staff members.
Child care challenges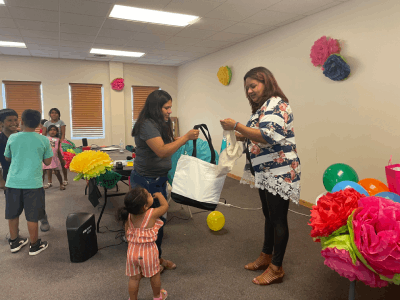 In previous interviews the team conducted with 20 farmworkers in the region and in discussions at the events, parents emphasized their need for more reliable, affordable and accessible child care during the growing season. They also shared concerns about smoke exposure for kids, who are especially vulnerable to its harmful health impacts.
Some farmworker parents rely on other family members, including older siblings, to care for younger children. During smoke events, they often worry about how their families are doing while they are at work, and about the stress of keeping kids inside when they want to play outside.
"One of the women said that several times during wildfire season, she will finish her workday and the car will be completely coated in ash," D'Evelyn said. "Picking up your kids in a car that is full of ash does not feel safe—on top of the uncertainty of not knowing exactly what the health impacts are."
An accessible format
The team began the events by reading quotes from their interviews with farmworkers on three major themes: child care, health effects and mental well-being.
"It seemed like that was really impactful, when people heard their stories in their own voices and in their friends' and families' voices," D'Evelyn said.
Participants then joined discussion groups on the three themes. After dinner, kids joined the discussions, offering a chance for families to share their experiences as a whole.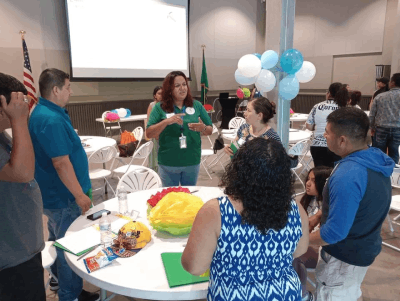 "A woman stood up at the end of one of the events and said that this discussion format was so helpful" because it was accessible for Spanish speakers and people who cannot read, D'Evelyn said.
"She said she had learned a lot. Most of the information she had previously received about wildfire smoke safety came through fliers that her workplace posted on a bulletin board—but there was never any discussion about it."
Sharing the feedback
Despite the success of the events, D'Evelyn emphasized that there is still much to do to understand how best to support farmworker families.
The team plans to present the farmworkers' comments in a report that can be shared with organizations that offer resources to the community, such as health care and child care providers.
"If we can help organizations on the frontlines to understand what is needed, I think that could be really helpful," she said.
This project was funded by PNASH. D'Evelyn is funded by the Biostatistics, Epidemiologic and Bioinformatic Training in Environmental Health program.